Written by The Rabbit Hole Hay Team
What is Oat Hay?
This is markedly different from our other hays in two significant ways. 1. Oat is a grain, whereas Timothy, Orchard are grass hays. 2. Grain hays are much more light sensitive. Despite this they maintain much of their nutrients despite yellowing. The stalks and leaves are very high in fiber and generally loved by Rabbits, Guinea Pigs and Chinchillas.
Oat Hay should have these qualities:
Harvest: Annual, there is only one harvest per year that must be replanted each year.
Location: All Elevations, it grows well in the valley and in the mountains.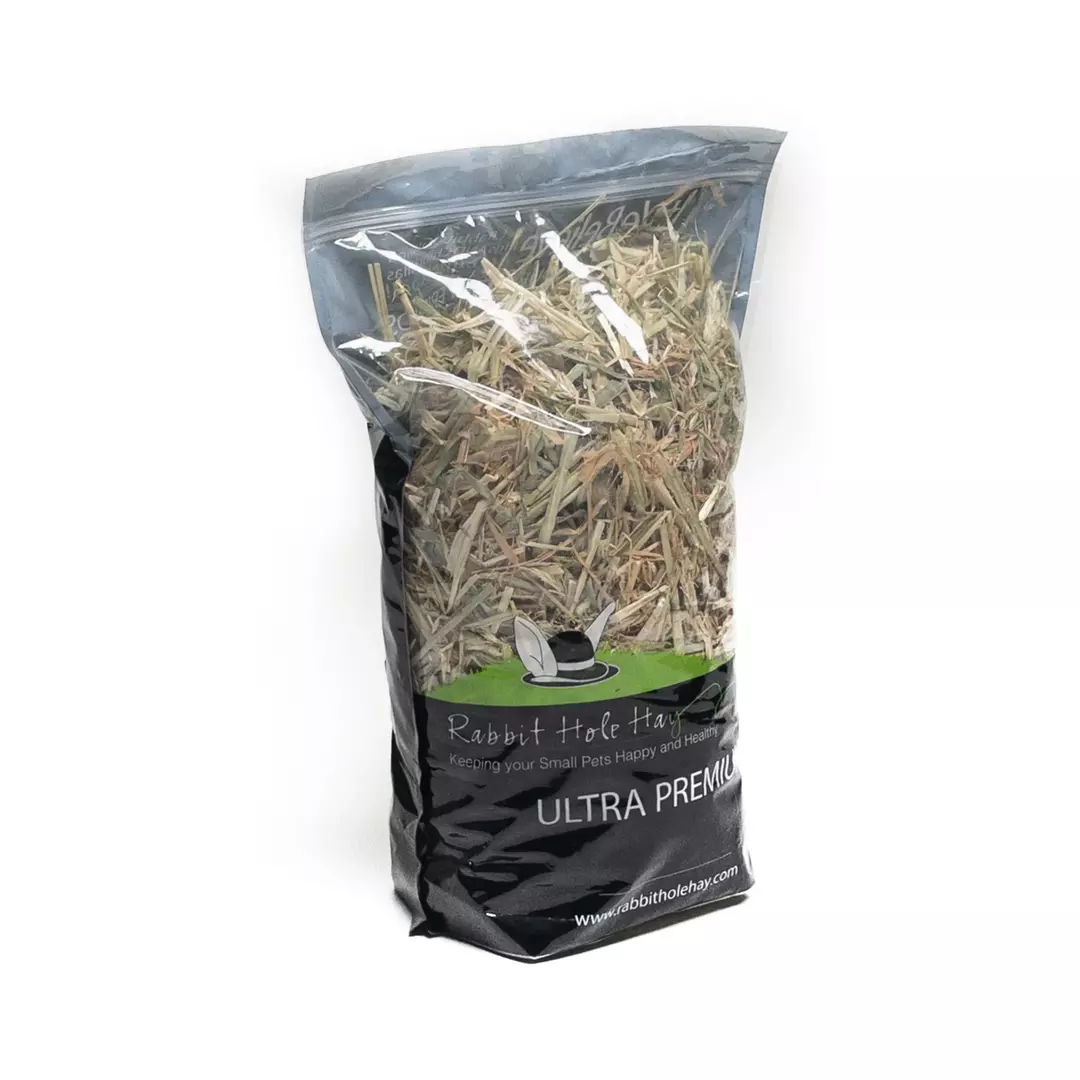 Color: Light Green to Yellow with streaks of Purple (indications of sweetness)
Stems/Stalks: Stems are very thick and hollow, should be extremely plentiful.
Leaves: Thin long leaves accompanying each stalk. 
Seed Heads/Flowers: Should be able to easily identify each of the three grains head, should be full developed.
Leaf Crush: The Leaves and stalks are very robust and we generally see no leaf crush. 
Weeds: None
Dust: None
Our goal is to offer the highest quality hay, however, all naturally grown and harvested hay holds minor imperfections such as dust, weeds, leaf crush, and brown leaf. The ideal version of Oat Hay would have none of these.
October 2022 Oat Hay Report
The 2022 Ultra Premium Oat Hay we have in stock is currently a first cut, in fact Oat Hay only gets one cutting. This is the first time we are offering the variety. This year we were able to be in the fields early and were able to get a really nice hay, we got it indoors right away and so have been able to maintain some of its color. It is absolutely beautiful hay.
Here is the report on what we have in stock:
Overall Rating: 8/10
Harvest: First cut of a field blend of Oat Hay, it was harvested in June of 2022.
Location: Northern California
Color: Yellow to Light Green
Stems/Stalks: Oat Hay has a completely different structure than our Grass Hays, it is much coarser in the sense that it has almost entirely stalks, however, the stalks are much softer, not as wirey. If the hay is allowed to fully mature in the field it will push sugars into the stalks which present themselves as a Purple/Pink hue in the stems. Your small pets will love this!
Leaves: Leaves are minimal.
Seed Heads/Flowers: Seed heads are large and abundant.
Leaf Crush: Very minimal
Weeds: None
Dust: None
Summary: This year's Oat Hay is an okay example of what Oat Hay should be. The only reason it doesn't receive a 10/10 is because this is the first year we've had it and while it's good it's not perfect.
Order 2022 Oat Hay Below!
Want to know about our other hays? Read our Hay Reports!