Hay Report: Soft Orchard Grass [2019]

Written by The Rabbit Hole Hay Team
We have been selling our Orchard Grass as Soft and Coarse for over a year now. The great feedback on this name change helped push us forward for changing the names of our Timothy Hays. If you missed the name change announcement you can read about it by clicking on one of the Timothy Hay Reports below.
Let's recap what makes the perfect Soft Orchard Grass.  

What is Soft Orchard Grass?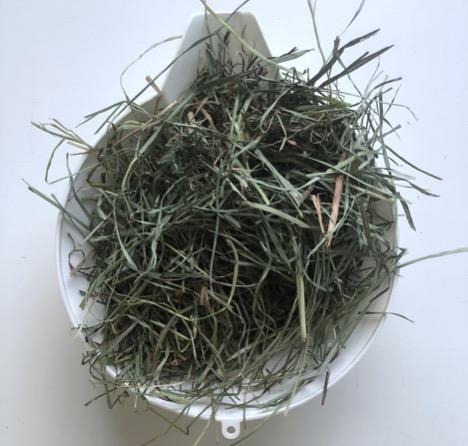 Soft Orchard Grass can be harvested from the second through fourth cuts. Like Timothy Hay, the first cut of Orchard Grass grows very Coarse, with lots of seed heads and thick stocks but that is where the similarities between the two end. Orchard Grass second through fourth cuts are extremely soft with almost all leaves.  We generally select our Soft Orchard Grass based on whichever cut turns out to be the best in that given year. 
Soft Orchard Grass should have these qualities:
Harvest: Second through fourth cut of pure Orchard Grass 
Color: Described as blue green, especially when compared to Timothy Hay.
Stems/Stalks: There should essentially be no stems (stalks) in a quality Soft Orchard Grass. 
Leaves: Soft Orchard Grass should be composed entirely of leaves.
Seed Heads/Flowers: Usually the seed heads, also called flowers, will not be found, but if they are found they will be very small .5 inches or less. The lack of seed heads is what allows many people with allergies to prefer this hay over others. 
Our goal is to offer the highest quality hay, however, all naturally grown and harvested hay holds minor imperfections such as dust, weeds, leaf crush, and brown leaf. The ideal version of Soft Orchard Grass would have none of these.

October 2019 Soft Orchard Grass Report
The 2019 Ultra Premium Soft Orchard Grass we have in stock is currently a third cut.
Here is the report on what we have in stock:
Overall Rating: 8/10
Harvest: Third cut of pure Orchard Grass, it was harvested in September of 2019.
Location: Northern California
Color: Blue Green 
Stems/Stalks: We found only one small stem in the sample we pulled for this report.
Leaves: Made up of mostly long, full leaves. 
Seed Heads/Flowers: None
Leaf Crush: Minimal
Weeds: We found a few stems of what looks like a stray Timothy or Fescue grass. When we found the strays we looked over the rest of the bale and did not immediately see any other obvious weeds. We  would not have seen the stray grass without picking through leaf by leaf. 
Brown Leaf: Average brown leaf length 3-4 inches. While the brown leaf is minimal it was woven through the grass.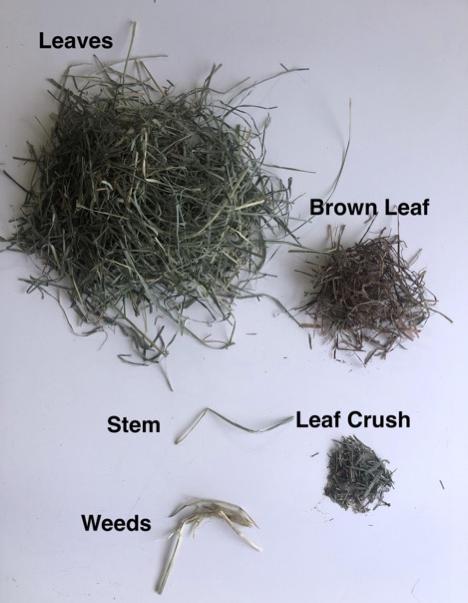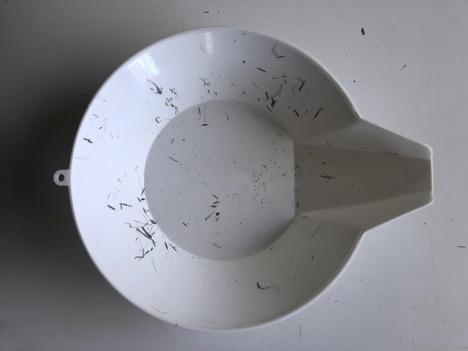 Dust: None
(The photo to the left is to describe what we mean when we rate Dust at none. After we sifted through and picked out all the stems, leaves, leaf crush, weeds and brown leaves, this was the "dust" left over.)
Summary: This year's Soft Orchard Grass is a great example of what Soft Orchard Grass should be. It has a nice full leaf structure with almost no leaf crush and we are already getting amazing feedback on it, so we find it works well for Soft Orchard Grass loving pets. The only reason that it does not get a 10/10 is the brown leaf scattered throughout and because of the few weed stalks that were found. 
Order Soft Orchard Grass Below!
Ultra Premium Soft Orchard Grass
Soft Orchard Grass is high in fiber and low in both protein and calcium. It is the softest type of hay we carry and makes a great alternative if you or your rabbit, guinea pig, or chinchilla are allergic to Timothy Hay.

100% Money Back Guarantee
Want to know about our other hays?
Read our Hay Reports!
Don't see your hay yet? We are slowly releasing all the hay reports, stay tuned!