10 Year Anniversary Awards Time!
As we begin to wrap up our Celebration of our 10 Year Anniversary, we wanted to give away five different awards that encompass not only who Rabbit Hole Hay is, but also who our customers are!
We'll be showcasing our Award Winners through "Meet the Winner/Customer Spotlight" interviews here on our blog. This way you can learn about our award winners and hear their stories!
The Product Explorer Award is hereby granted to Erin Himelright for purchasing the biggest variety of products across our website!
Enjoy reading and getting to know Erin, George, Divya, Tort, Chattel, Lady Libra, HP, Loki, and Luna.
Q. How Did You Hear About Rabbit Hole Hay?
I actually used to live in Chico, but did not know about Rabbit Hole Hay. I actually bought my hay at the time from a local feed store. When I moved to Colorado about three years ago they did not have good quality hay that I could buy from feed stores so I had to branch out and look at online delivery services. And somebody, I don't even remember who, recommended Rabbit Hole Hay. When I looked them up and saw they were from Chico, I was like, "Oh wow. Yeah, I'll definitely try them." And then come to find out they actually did have the best quality hay.
Q. Tell Us About Your Small Pets!
I have eight rabbits. Some of them are very picky on hay, others are not. One of the reasons why I've tried so many different products from Rabbit Hole Hay is to find which one most of them will eat and like. Although, with Rabbit Hole Hay it seems like they'll eat any of it. They're not too particular with the cut.
My first rabbit that I have is George, he's a Dutch. He's about seven or eight years old and he was a rescue from Auburn, actually a rescue out in Auburn. And he was my first rabbit ever. And I adopted him a little over five years ago.
Then I adopted Divya from Folsom, she's a Netherland Dwarf and about four. Divya and George are now bonded. It took several years, but they're now bonded.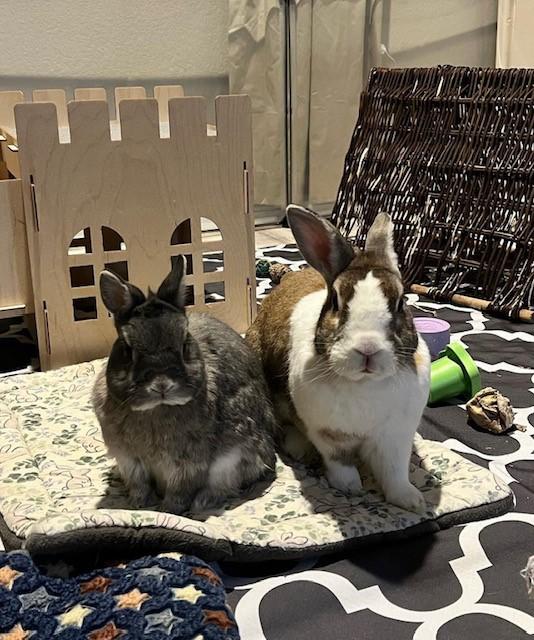 Tort and Chattel, they're brother and sisters. Both are Netherland Dwarfs and three years old.
Lady Libra, she's a three year old Flemish Giant from Louisiana. Somebody was rehoming her and they actually drove her all the way to me in Colorado. She's single right now because her partner unfortunately passed away earlier this year. But she's going to be bonded to my other single bun that I have.
HP, which stands for Hocus Pocus, is a Lionhead Lop, but you'd never know he was a Lionhead. He's a tiny thing, about three pounds, and has the airplane ears, which is super cute. HP is bonded to Loki, a year and a half year old Continental Giant, which is adorable. They did it themselves, it wasn't anything that I planned.
My last rabbit is Luna, and she's ten months old and a Continental Giant.
All my rabbits are rescued, none of them were bought.
Q. What Is Their Favorite?
Food? They really like Apple Wood Sticks and they're very particular. It's so funny because they're all the same too. They will only eat two different types of apple wood sticks: Rabbit Hole Hay and then Farmer Dave. They all love pretty much any treat that you could think of. I feed them homemade treats from different Etsy shops. The shop 'Well Kept Rabbit' is a really big one that I buy a treats from. Their treats are all nutritionally looked at by Lucille Moore who has a PhD in nutrition. A lot of them have benefits. Some are for digestion and some are for when they're molting, so I really like those.
They're kind of apprehensive on fruit because I don't really give it to them very often. So if I gave them a blueberry, they would kind of sit and look at it for a minute, not knowing really what it was. And then once they ate it, they'd be like, "Oh okay. It is good."
Activity? Running around the living room when they have their free time.
Rabbit Hole Hay Product? I really like the coarse grass because my bunnies tend to like grass hay more than timothy and I like it because it's usually less dusty and it's coarse. So I still feel like it gives them that benefit when they're chewing it for their teeth.
Q. What Does Your Daily Routine With Your Rabbits Look Like?
In the morning, they all get measured pellets except for the baby, the 10 month old. She's still on unlimited. And then the two Continental Giant also get a salad in the morning (a fresh greens mixture).
The routine is I let HP and Loki out in the living room for their free time. I have to alternate the pairs just because I don't want a fight to embark and then I check on them throughout the day. I work from home thankfully, so I'm here all the time.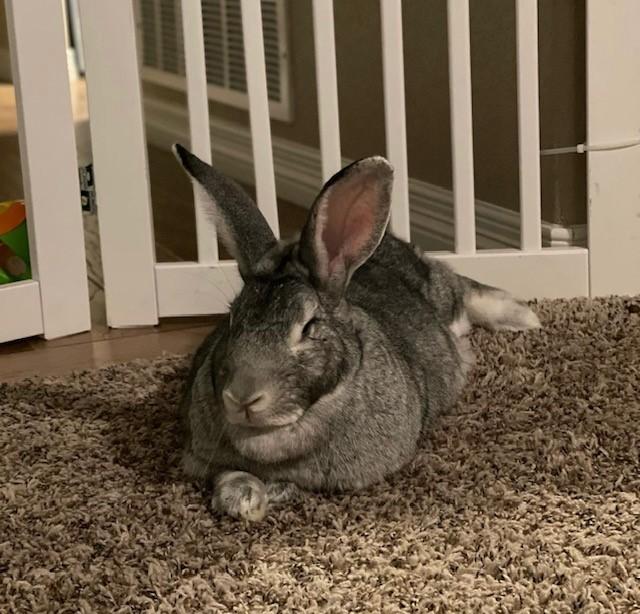 Evening time is fresh greens for everybody. And then Luna and Lady each get a turn in the living room to play. The other rabbits are all upstairs and they have a really large area each so they don't need to be let out anywhere necessarily. And then at bedtime they all get one treat.
Q. Do You Have Any Advice Or Tips For A New Small Pet Owner?
Don't shop at pet stores like Petco or PetSmart or at traditionally all inclusive pet stores because most of the things that they have for rabbits are not actually safe or healthy for rabbits.
Q. Anything Else You Want To Share With Us About Being A Small Pet Owner or Rabbit Hole Hay?
As far as being a small pet owner, I wish I had known how smart and personable rabbits were earlier in life because they are so underrepresented. I think people don't realize it and they have the misconception that they're farm animals that live outside in a hutch, which is so far beyond from the truth. Sharing about the quality of Rabbit Hole Hay, I mean you just get one batch of hay and you'll see the difference in quality on any other hay you buy.
I would also like to add that I'm not just promoting and saying I really like Rabbit Hole Hay because of this award. I really do like Rabbit Hole Hay. I tell everybody that it is the best quality that I think is out there and I am not just saying that. I'm happy to support the business, not only just because it's great, but it's also from my hometown.