Fiber is the #1 Ingredient for Health
A rabbit's digestive system is a one-way tract (i.e. they can't vomit) which means the only way to eliminate toxins out of their system is through their poop. Therefore, maintaining proper gut function is crucial to keeping them happy and healthy.
Fiber, found in our hay, plays a vital role in achieving this. It's the essential ingredient needed for good digestion and gut health in rabbits.
When you give your rabbit our fresh and nutritious hay, that is high in fiber, they'll have:
Better digestive health
Better poops
Lower risk of a digestive impaction (GI Stasis)
Lower risk of the dreaded "poopy butt"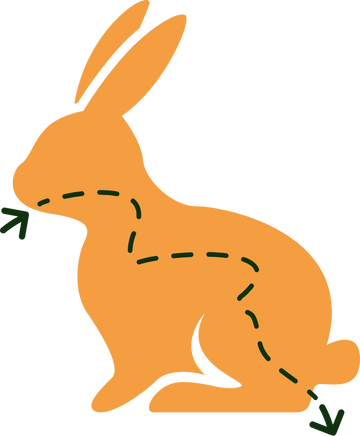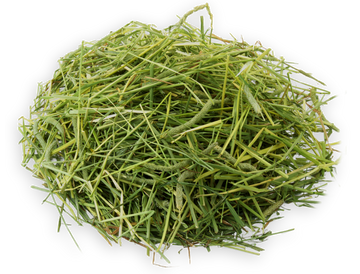 The Ultimate Staple in Your Small Pet's Diet = Grass Hay
Fiber is essential, but the best kind of fiber for your small pet is long strands of fiber found in Grass Hay.
Grass Hay should make up a minimum of 80% in the diets of rabbits, guinea pigs, and chinchillas. The long strand fibers found in loose hay are crucial for helping keep their digestive system regular and functioning properly. It also helps to wear down their ever-growing teeth so their eating isn't impacted. This is why we inspect and hand-pack every package of hay to ensure your small pet receives fresh, green, and fragrant hay of the highest quality.
Wondering Where To Start?
Start smart with our convenient sample sizes!
These 2 ounce portions of our most beloved hays give your small pet a chance to sniff, nibble, and decide on their absolutely favorites before committing to a larger quantity.
By starting small, you'll save money and minimize waste, ensuring that your small pet gets the hay they love from the very first bite. Let the exciting taste-testing journey begin, and watch as your small pet goes from never eating hay to gobbling it up by the mouthful.
Genuine Binkie's & Squeaks
"It means that we get quality hay to keep our bunnies digestive track healthy. This is the only hay my bunnies will eat. They have been spoiled with the awesome quality of hay that we get from Rabbit Hole Hay. "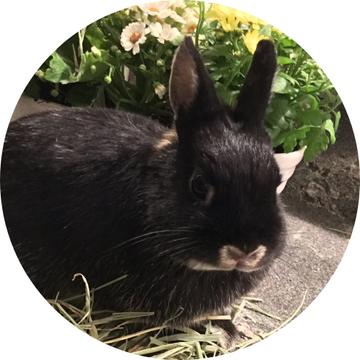 "Rabbit Hole Hay is literally the ONLY HAY my rabbits will gobble up until it is gone. THEY LOVE IT. I am confident the hay fulfills their daily fiber requirement and that is a big relief for me (and their tummies). Happily, I am saving money because I no longer have to throw away boxes of uneaten hay from trial and error purchases."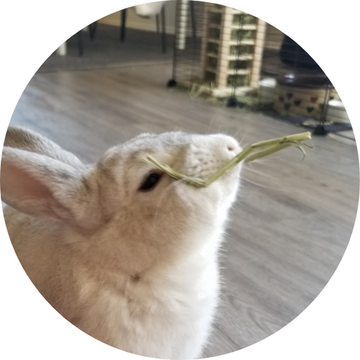 "RHH is the only hay all 6 of my buns accept.  Even my fat guy who prefers too many pellets over hay will gobble up his RHH.  Its comforting to know they are living their best life full of delicious but healthy food."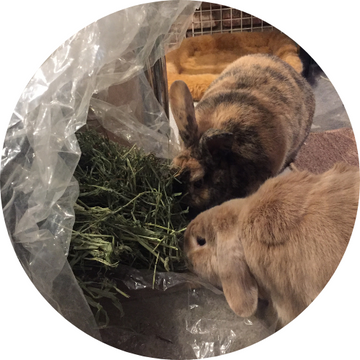 We're Here To Help Your Small Pet Live Longer
Everyone wants their small pets to live as long as possible and that is exactly what Rabbit Hole Hay can give you.
Here's what our hay does that no other hay can do for your small pet:
Our hay is always hand-processed, never machine-cut, creating nice long strands and less small pieces.
Our hay is fresh, green, and fragrant hay of the highest quality that your small pet will actually eat and not just pick through.
As part of our quality control, we visit our hay farms, ensuring that the hay we provide for your small pets is the highest quality available.
​​We keep your hay covered to keep it fresh and protect it from sunlight, which can rob hay of its nutrients.
We protect your hay from water, which can cause hay to develop fungus, mold, and bacteria.
Pure vs. Cubes vs. Pellets...Which One Should I Try?
Hay plays a crucial role in your small pet's diet, providing essential fiber for their digestive and dental health.
Pure, Loose Hay
should be constantly available, while
Hay Cubes
offer convenience and mess-free feeding.
Hay Pellets
, which can be fortified with vitamins and minerals, serve best as a supplement to their nutrition.
Pure, Loose Hay should remain the primary intake for your small pet, while Hay Cubes and Pellets are complementary additions, not replacements.
Who We Are
Since 2012, Rabbit Hole Hay has delivered ultra premium hay from one of the finest hay regions in the world, the mountain valleys of Northern California and Southern Oregon. 
We take pride in providing exceptional customer service and offering premium quality products that are delivered straight to your doorstep so you can trust that you've selected the right hay to keep your small pet happy and healthy.
Your Small Pet Deserves The Best, We Can Help
Enrich their playtime with our irresistible chew toys, doubling as tasty treats that promote healthy teeth.
Elevate their comfort level and uphold immaculate cleanliness with our remarkable odor-fighting, unmatched absorbency, and dust-free bedding.
Sale price
$ 5.47
Regular price
$ 5.97
Sale price
$ 5.47
Regular price
Subscribe & Save!
Never again live in fear of grabbing the last handful realizing you never made your next order (we all know an unhappy small pet = an unhappy household). Join our Subscription Program by subscribing today and save 10% on your order and you'll work your way to saving 15% on future orders. Your small pet will thank you!
Share Your Happy & Healthy Small Pets
#RabbitHoleHay
Ready to see adorable photos of rabbits and other small pets, exclusive customer photos, memes, product details, small pet tips, giveaways and more?