Written by The Rabbit Hole Hay Team
What is Alfalfa Hay?
Alfalfa Hay is not a grass like many of the other hays that we sell. It is instead a legume. Legumes are the species of plants that grow beans. Because of this the hay has much higher content of Protein. Which can be great for Rabbits, Guinea Pigs and or Chinchillas in certain circumstances. Alfalfa is used to help transition kits from their Mother's milk to grass hays, it is very palatable to them, during this time the additional protein helps them to gain weight rapidly and stay healthy during this time of their growth. Once they reach about 7 months, however, they should be transitioned off of Alfalfa to Grass Hays, which are lower in Protein and higher in Fiber. If your pet is low weight for some reason feeding Alfalfa can be helpful in helping them regain weight. 
Alfalfa Hay should have these qualities: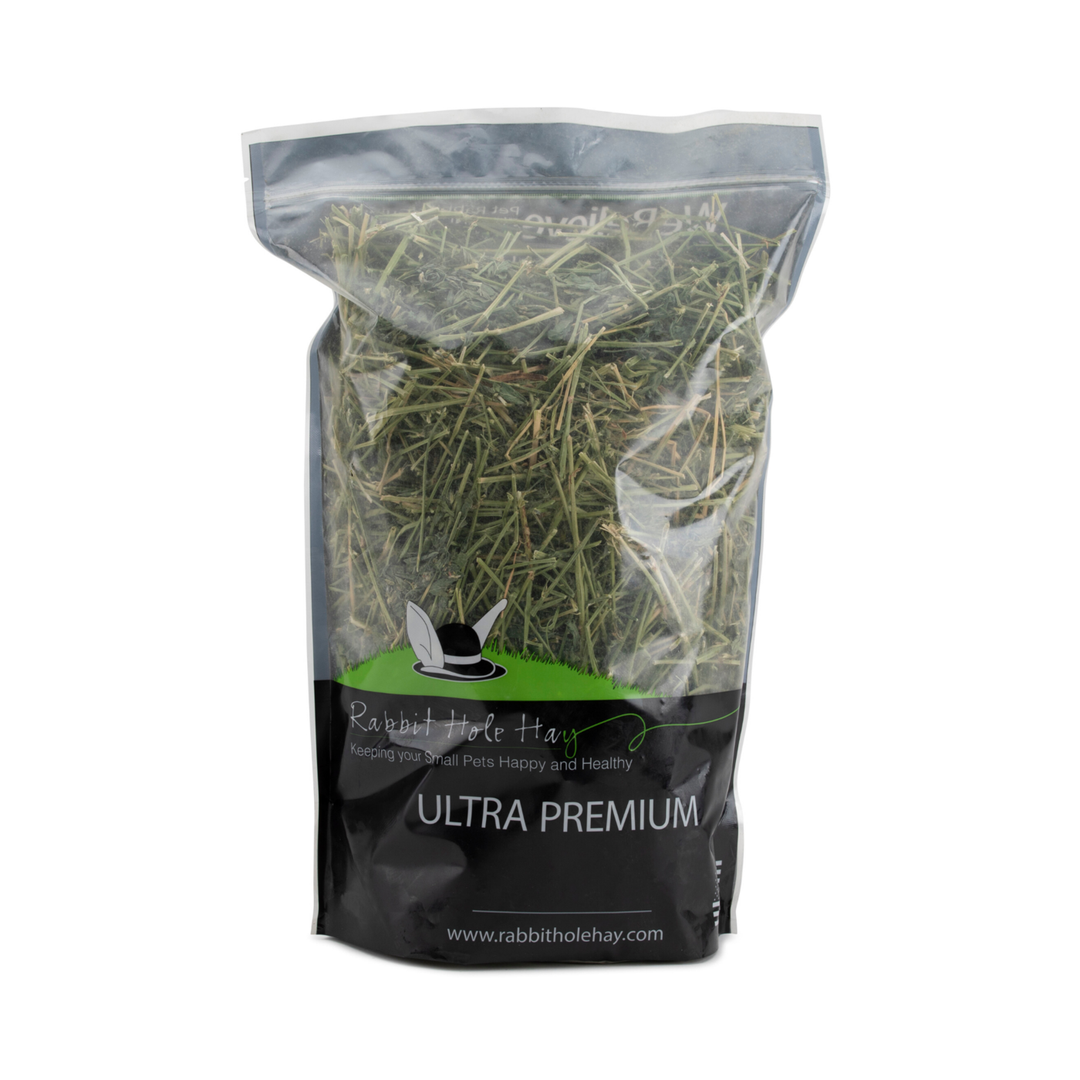 Harvest: We tend to select 2nd, 3rd or even 4th cuttings for our hays
Location: Mountain Grown
Color: Dark Forest Green
Stems/Stalks: Thin abundant stems, (Alfalfa is a vine)
Leaves: Small elliptical leaves, should be maintaining attachment to the stem.
Seed Heads/Flowers: Can be nonexistent, especially in later harvests. Flowers should have purple petals. 
Leaf Crush: Minimal, however because of the hay conditioning process some leaf loss is normal. 
Weeds: No weeds, this is usually very easy for us to obtain.
Dust: No Dust (as in dirt or debris)
Our goal is to offer the highest quality hay, however, all naturally grown and harvested hay holds minor imperfections such as dust, weeds, leaf crush, and brown leaf. The ideal version of Alfalfa Hay would have none of these.
October 2022 Alfalfa Hay Report
The 2022 Ultra Premium Alfalfa we have in stock is currently a second cut that is grown at high altitudes. This keeps the stem structure thin and helps the leaves to remain attached. This year is a near-perfect example of mountain-grown Alfalfa, it has been kept indoors and so has an absolutely beautiful color.
Here is the report on what we have in stock:
Overall Rating: 9/10
Harvest: First cut of a mountain-grown Alfalfa, it was harvested in August 2022.
Location: Northern California
Color: Pure Deep Green
Stems/Stalks: Alfalfa is a legume rather than grass hay, which is why it is higher in protein than your typical grass hay. The stalks of this are nice and thin and have been run through a conditioner that helps them to release their moisture.
Leaves: Leaves are plentiful and holding to the stems nicely.
Seed Heads/Flowers: Almost none.
Leaf Crush: Typical of a nice alfalfa
Weeds: None
Dust: None
Summary: This year's Alfalfa Hay is a near-perfect example of what Alfalfa Hay should be. example of what Alfalfa Hay should be.
Order 2022 Alfalfa Hay Below!
Want to know about our other hays? Read our Hay Reports!