Hay Report: Coarse Orchard Grass
Written by The Rabbit Hole Hay Team
What is Coarse Orchard Grass?
Coarse Orchard Grass is usually harvested from the first cutting of the grass. Like Timothy Hay, the first cut of Orchard Grass can grow very Coarse, with lots of seed heads and thick stocks. The last few years we have struggled to find very Coarse Hay, the cooler conditions along with the draught have caused the hay to grow a little softer than normal. Generally we are looking for stalk and seed heads in a Coarse vs. a Soft (which we are looking for no stalks or seed heads).
Coarse Orchard Grass should have these qualities:
Harvest: First Cutting
Location: High Mountain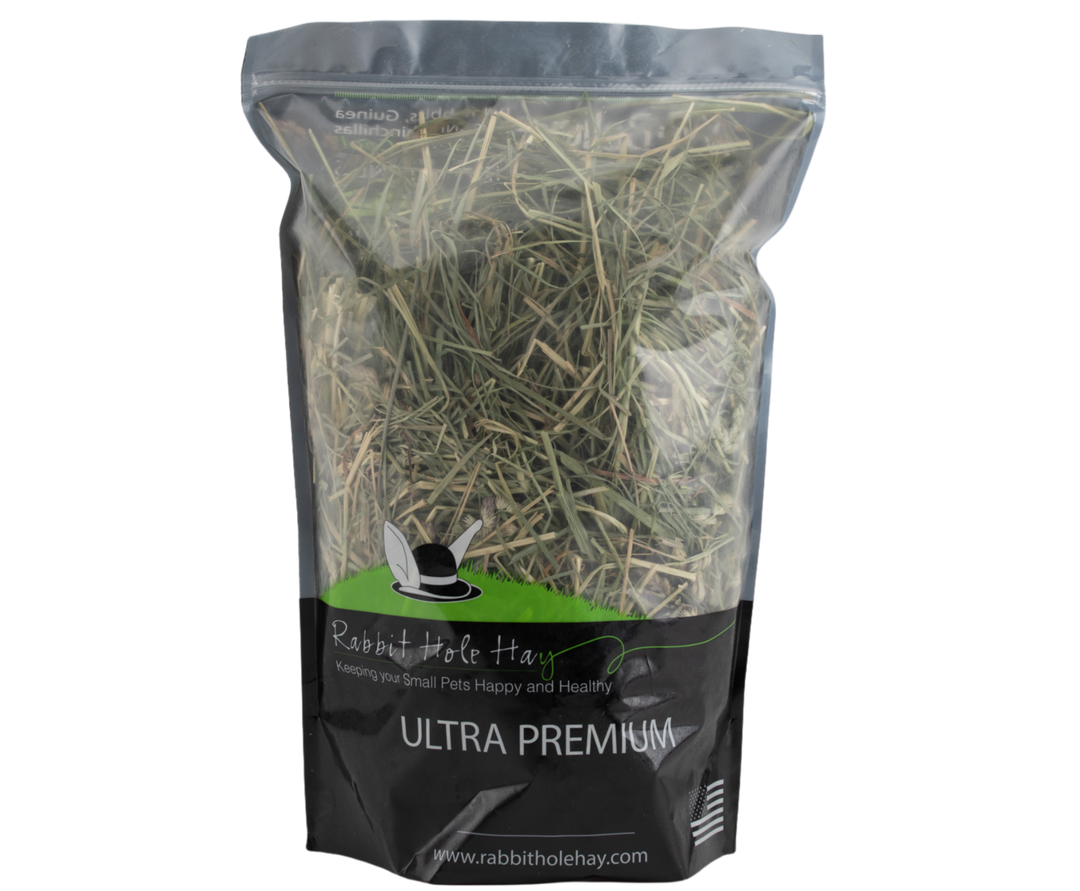 Color: Light Green with a tinge of Blue
Stems/Stalks: Present, sometimes thick and full, sometimes thin.
Leaves: Abundant, long and lush.
Seed Heads/Flowers: Short seed heads fully developed. 
Leaf Crush: Should be none.
Weeds: Should be none, however we at times will see a little bit of Alfalfa. 
Dust: Should be none.
Our goal is to offer the highest quality hay, however, all naturally grown and harvested hay holds minor imperfections such as dust, weeds, leaf crush, and brown leaf. The ideal version of Coarse Orchard Grass would have none of these.
October 2022 Coarse Orchard Grass Report
The 2022 Ultra Premium Coarse Orchard Grass we have in stock is currently a first cut. Like last year our 2022 Coarse Orchard is on the soft side. This season was very cool which slowed the growth of the plants, this caused the harvest to be forced to be early in the plants normal growth cycle, which was later in the season. It is absolutely beautiful hay, however, it is a little soft for Coarse Orchard Grass.
Here is the report on what we have in stock:
Overall Rating: 8/10
Harvest: First cut of pure Orchard Grass, it was harvested in June of 2022.
Location: Northern California
Color: Deep Blue Green
Stems/Stalks: Few stalks and those that are present are very moderate in thickness. Some of the stalks are lighter in color. 
Leaves: Abundance of leaves that are broad and beautiful
Seed Heads/Flowers: Moderate seed heads that are fairly small in size.
Leaf Crush: Very minimal
Weeds: None
Brown Leaf: Almost none
Dust: None
Summary: This year's Coarse Orchard Grass is an okay example of what Coarse Orchard Grass should be. The only reason it doesn't receive a 10/10 is because, like last year, it's on the softer side. 
Order 2022 Coarse Orchard Grass Below!
Want to know about our other hays? Read our Hay Reports!