Hay Report: Medium Timothy Hay [2020]

Written by The Rabbit Hole Hay Team
We are beginning the transition of changing our Timothy Hay product names to new ones. Up until now, we've used the product names: First Cut, Second Cut, and Third Cut Timothy Hay. We'll soon be replacing these product names with: Coarse, Medium, and Soft Timothy Hay.

Why The Name Change? 
The main reason behind this transition is because we want your experience with our products to be more consistent and for you to receive what you expect with each box of Timothy Hay.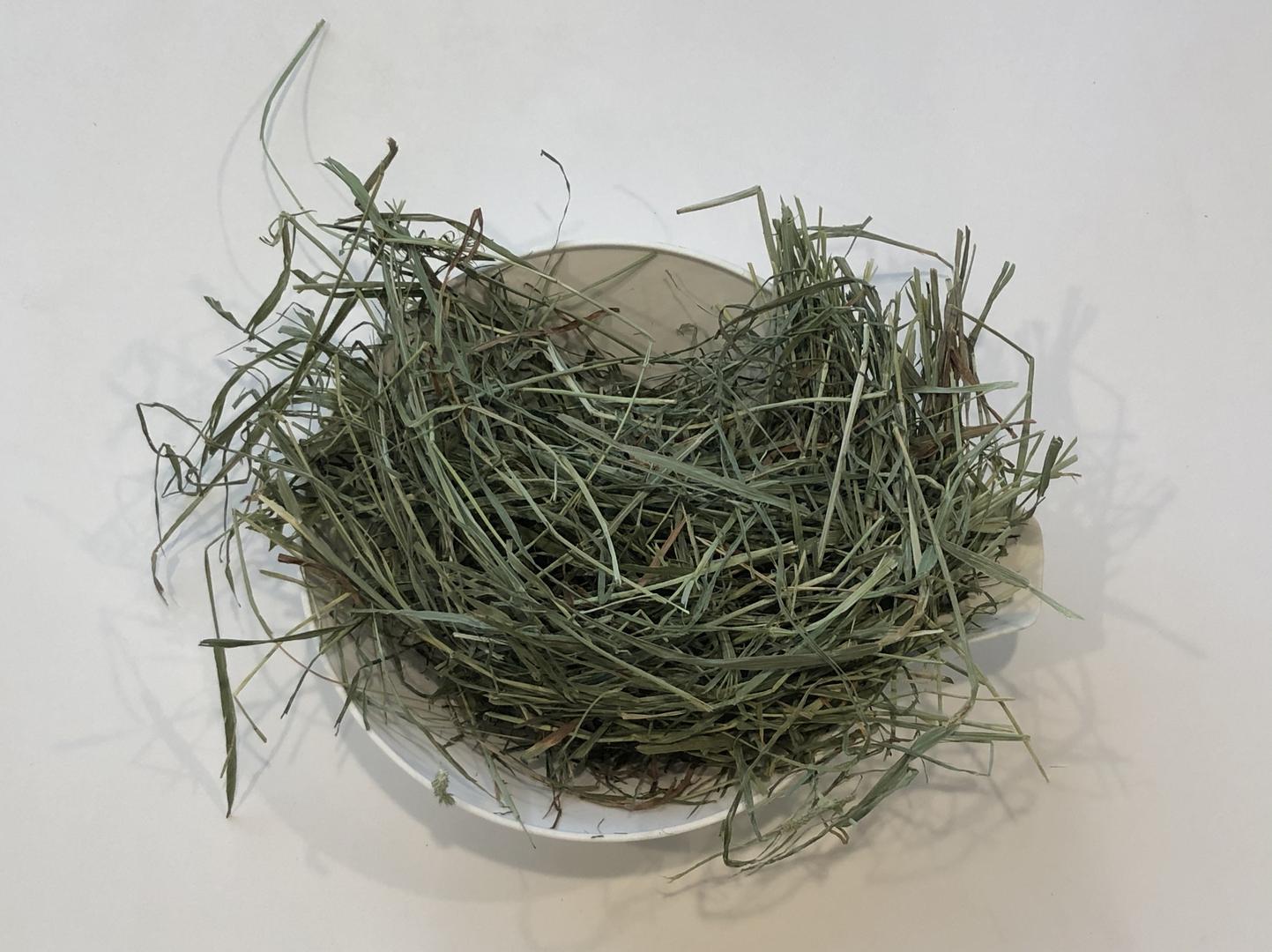 While referring to a cut of hay by the order in which it was harvested from the field (first, second, and third) is an accurate and precise way to reference it, it does nothing to describe the quality  and texture you want to buy. 

We have found over the last six years that we often used terms like soft, coarse, and leafy to accurately describe the texture of the hay to our customers. It got us thinking, what if we change the name to something everyone understands? 
What is Medium Timothy Hay Then?

Medium Timothy Hay is almost always harvested from the second cut. However, in the past we have inspected beautiful first cut hay that was on the softer-side of a first cut and had to reject it. Which is extremely silly as we know you would've loved it.
Moving forward we will provide you with the highest quality hay we can find that meets the standards for what Medium Timothy Hay should be, regardless if it's from the second or first cut.
Medium Timothy Hay should have these qualities:
Harvest: Second or first cut of pure Timothy Hay
Color: Described as a hunter or true green.
Stems/Stalks: The stems of Medium Hay should be thin, less than 1/16th of an inch, however, an occasional thicker stem (stalk) is not uncommon. Most of the stems should be solid, almost wiry in feel. Medium Hay is softer than Coarse Timothy because of the lower number of stems and higher number of leaves. 
Leaves: Leaves should be broad and more than half the total amount of hay.

Seed Heads/Flowers: The seed heads, also called flowers, should be fully developed and will generally be between 1-2 inches long on average with small purple wisps. The seed heads of Medium Timothy should be noticeably shorter and smaller than Coarse Timothy, with fewer in number.
Our goal is to offer the highest quality hay, however, all naturally grown and harvested hay holds minor imperfections such as dust, weeds, leaf crush, and brown leaf. The ideal version of Medium Timothy Hay would have none of these.

October 2020 Medium Timothy Hay Report
The 2020 Ultra Premium Medium Timothy Hay we have in stock is currently a second cut. We hand-selected this batch because we knew it would be what you and your pet were looking for in a Medium Timothy Hay.

Here is the report on what we have in stock:
Overall Rating: 8.5/10
Harvest: Second cut of pure Timothy Hay, it was harvested in September of 2020.
Location: Northern California
Color: Dark Mint Green
Stems/Stalks: Averaging 10-15 inches long in length and most are thin in diameter, smaller than 1/16th of an inch. We did occasionally find a thicker stem. 
Leaves: There are a high amount of leaves with the leaf length up to 8 inches. They are nice and broad looking.
Seed Heads/Flowers: Fully developed with fine purple blossoms, average length 2 inches in length. Most seed heads are short and small with the occasional larger seed head in the mix.
Leaf Crush: Minimal
Weeds: None
Brown Leaf: Slight, average brown leaf length 1-2 inches. While there is very little brown leaf, it is small and scattered throughout the leaves.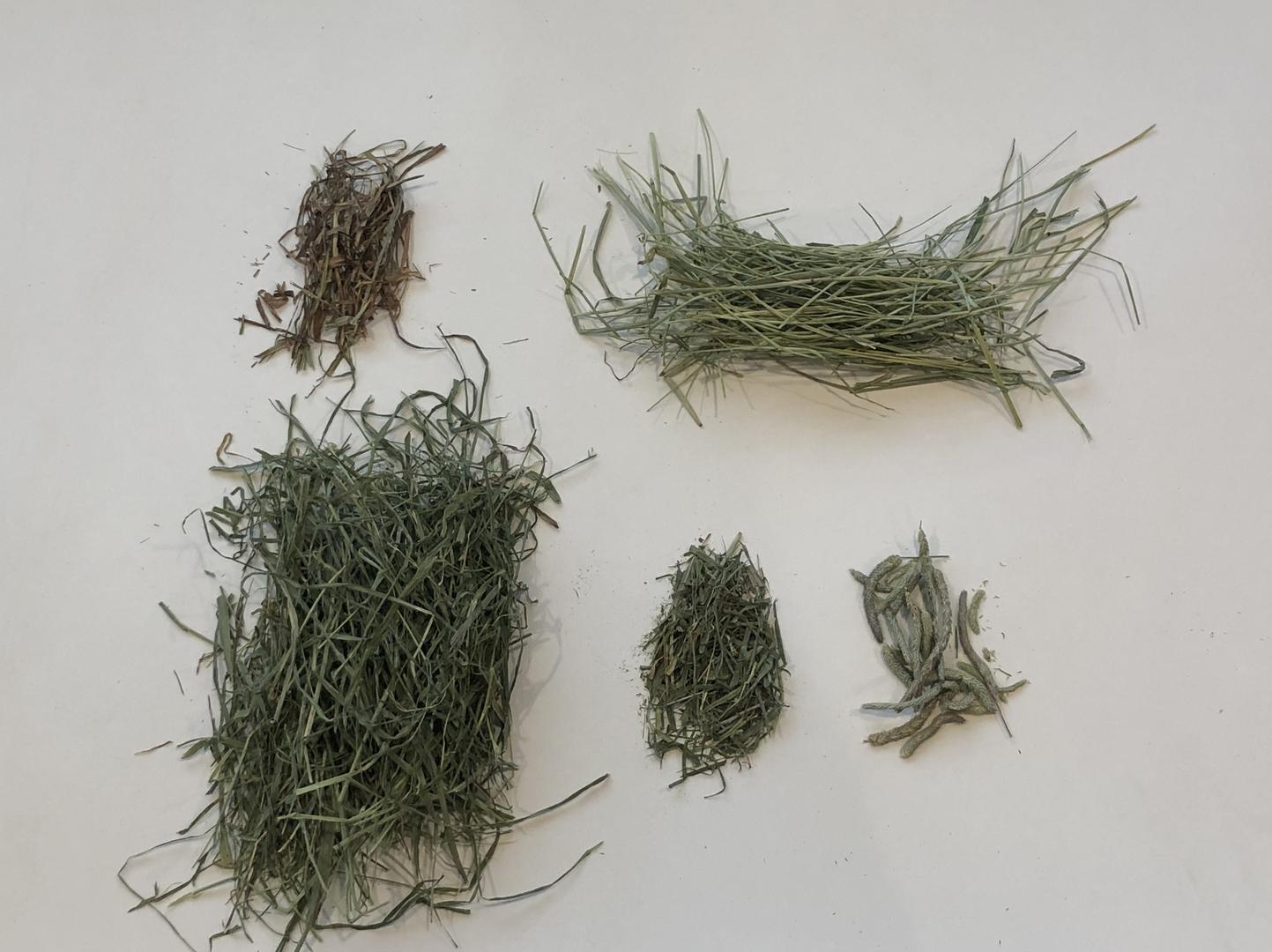 Dust: None
(The photo to the left is to describe what we mean when we rate Dust at none. After we sifted through and picked out all the stems, leaves, seed heads, leaf crush, weeds and brown leaves, this was the "dust" left over.)
Summary: This year's Medium Timothy Hay is a great example of what Medium Timothy Hay should be. It checks off all of the requirements and looks great, the only reason that it doesn't receive a 10/10 is the small amount of brown leaf scattered throughout.
Order Medium Timothy Hay Below!
Ultra Premium Medium Timothy Hay
Our Medium Timothy Hay contains mostly thin stems, short seed heads, and broad flat leaves. This grade of hay comes from the second harvest of Timothy Hay or a beautiful first harvest that was on the softer-side.

100% Money Back Guarantee
Want to know about our other hays?
Read our Hay Reports!
Don't see your hay yet? We are slowly releasing all the hay reports, stay tuned!