[2021] Hay Report: Mountain Grass
Written by The Rabbit Hole Hay Team
What is Mountain Grass?
Our Mountain Grass is a three way field blend between Timothy Hay, Orchard Grass and Brome. This field blend provides a great blend between Coarse Hays (high in Fiber) and softer hays, (more palatable). The Brome has a slightly higher sugar content than Timothy or Orchard adding in that extra appeal. Because this is field blended there can be variations in the hay ranging from mostly Timothy Hay to mostly Brome. This is one of the things that we like about it. It provides your pet with a similar variety to what they might experience in nature while providing them with a very healthy diet! 
Mountain Grass should have these qualities: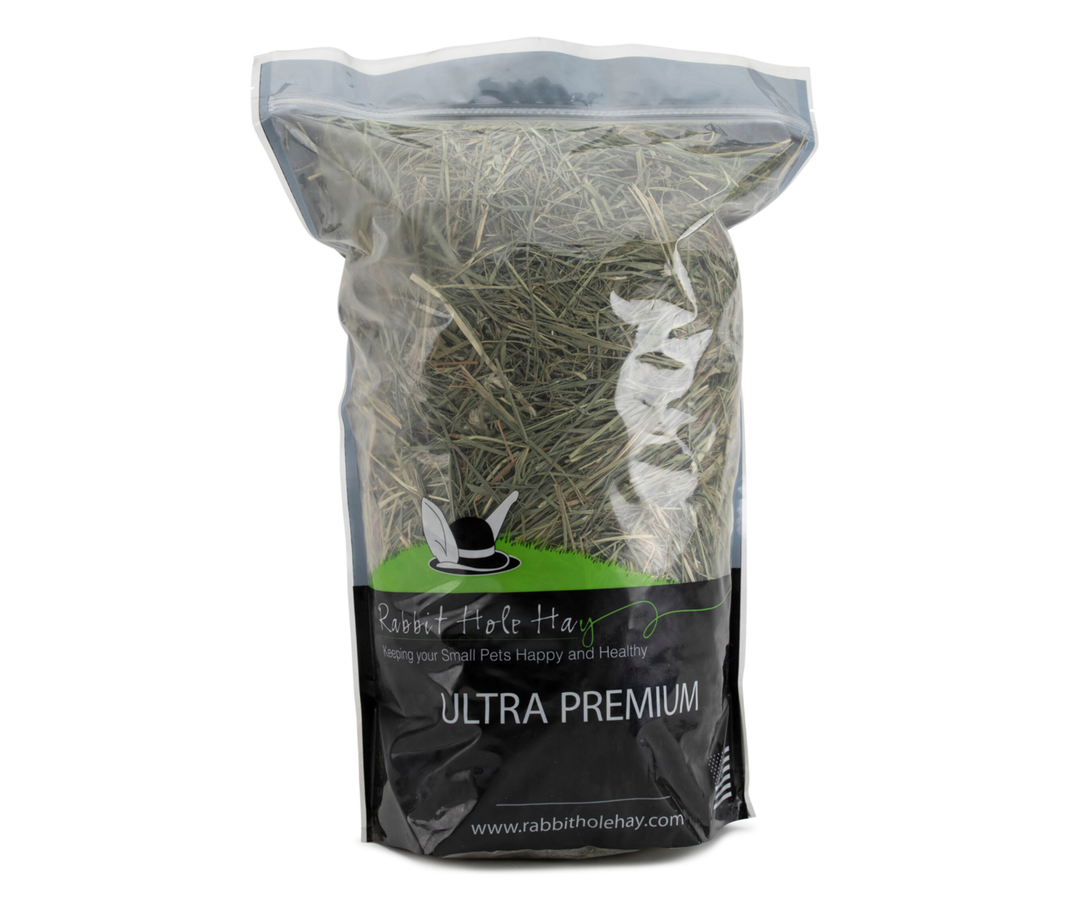 Harvest: First or second cut (we work for a consistent texture)
Location: High Mountain Grown
Color: Forest Green
Stems/Stalks: Timothy: is usually presented with a Medium texture, Orchard and Brome usually with little to no stems. 
Leaves: good blend of stalk to stem. Timothy and Orchard have broad leaves, while Brome is a very thin leaf that looks like spaghetti. 
Seed Heads/Flowers: All three varieties of seeds can be present, usually Timothy showing the most prevalent. 
Leaf Crush: Little to none, Brome and Orchard have very resilient leaves. 
Weeds: None
Dust: None.
Our goal is to offer the highest quality hay, however, all naturally grown and harvested hay holds minor imperfections such as dust, weeds, leaf crush, and brown leaf. The ideal version of Mountain Grass would have none of these.
October 2021 Mountain Grass Report
The 2021 Ultra Premium Mountain Grass we have in stock is currently a first cut blend of Timothy Hay, Orchard Grass and Brome (meadow grass) that is grown at high altitudes. This year is a little heavy on Timothy Hay, which all looks incredible. We secured a good amount of it this year so we should be able to provide this hay consistently all year!
Here is the report on what we have in stock:
Overall Rating: 8/10
Harvest: First cut of a Timothy, Orchard, Brome blend, it was harvested in June of 2021.
Location: Northern California
Color: Forest Green
Stems/Stalks: The Timothy Hay in this offering is more prominent than the other two varieties and the stems are thick and plentiful.
Leaves: The leaf is softened considerably by the presence of Orchard and Brome.
Seed Heads/Flowers: Fair amount of seed heads of both Timothy and Orchard.
Leaf Crush: little to none.
Weeds: None
Dust: None
Summary: This year's Mountain Grass is a good example of what Mountain Grass should be. The only reason it doesn't receive a 10/10 is that the Timothy is more prevalent and there is a tiny bit of leaf crush.
Order 2021 Mountain Grass Below!
Want to know about our other hays? Read our Hay Reports!