Introducing Our First Rabbit Hole Hay BUNbassador: 
Adriel
Meet our very first Rabbit Hole Hay BUNbassador Adriel and her two bunnies Binky & Twyla! 
Adriel started purchasing Rabbit Hole Hay for her two bunnies Binky & Twyla seven months ago. 
Binky is over a year old, and Twyla is nine months old and both love Rabbit Hole Hay so much that she has three large boxes of hay ready to go in their storage room.
Since switching to Rabbit Hole Hay Adriel has really noticed a difference in Binky and Twlya's health, seeing that they have more appetite whenever they eat their Ultra Premium Hay from Rabbit Hole Hay.
It brings her happiness to see them loving the hay they are eating since it keeps their sensitive GI systems moving. At Rabbit Hole Hay it's all about keeping small pets happy and healthy, which are two things Adriel sees when feeding her bunnies Rabbit Hole Hay. 
Watch her video above or read on to see exactly what and how she feeds them. 
Binky & Twlya's Favorite Hays
The Main 3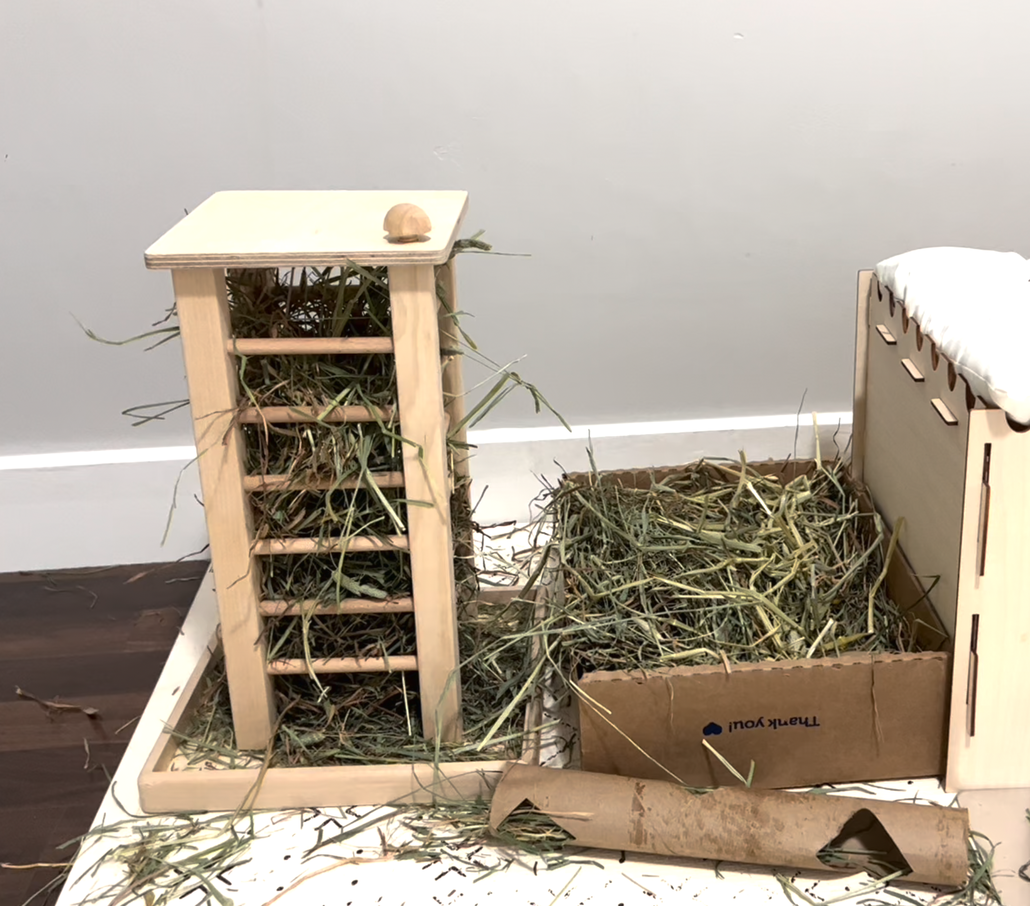 Adriel likes to take their three favorite hays and mix them together in their hay rack and box for flavor: Soft Orchard Grass, Coarse Timothy Hay, and Medium Timothy Hay. 

Soft Orchard Grass is the softest hay we carry, making it popular with picky eaters and can be a great alternative if you or your small pet are allergic to Timothy Hay. It's high in fiber and low in both protein and calcium. 

Coarse Timothy Hay's long seed heads, short broad leaves, and long thick stems make it coarser providing long strands that promote natural chewing behavior along with having a low protein level and high fiber, which is best for keeping your small pet's digestion regular and functioning. 
Adriel enjoys mixing in the Coarse Timothy because it allows her bunnies to have their teeth shaved down. 
Medium Timothy Hay is easier for small pets to eat because of it being more moist and softer than Coarse Timothy, while still holding the proper levels of protein and fiber for it to be fantastic in keeping your small pet's digestion regular.
Additional Hays
Binky and Twyla love to eat Wheat Barley Oat Blend, so Adriel feeds it to them once or twice a week as a treat and they really enjoy it when they find it mixed in with their regular hay! 
Our Wheat Barley Oat Blend is mostly stems, long seed heads, and leaves with the stems and leaves both being high in fiber. It's also markedly different from our other hays in two significant ways:
1)    Wheat, Barley and Oat are all grains, whereas Timothy and Orchard are grass hays.
2)    Grain hays are much more light sensitive. Despite this they maintain much of their nutrients despite yellowing. 
Adriel also likes giving Binky and Twyla a sprinkling of Alfalfa Hay on their main hays every 2 to 3 weeks and has seen it increase their appetite. Alfalfa Hay is full of protein and nutrients, which makes it perfect for growing rabbits under 7 months. Yet, in limited amounts it can make a great treat or tester for adult small pets. 
Adriel stats that, "Whenever I feel like they're down or they're not themselves, I'll test them out with Alfalfa Hay. I'll offer some and if they perk up and want to eat some more, I know they're going to be fine. Alfalfa Hay has been a trusted test for me, it's proven many times that my bunnies are just fine because they get super excited when they smell it."
 She also likes to give them Alfalfa Hay Cubes as a treat occasionally, and each time she does they become really excited about it. Timothy Hay Cubes are a "nice boredom breaker for the bunnies and they enjoy them." 
Our Alfalfa Hay Cubes are made up of all natural sun-dried Alfalfa and our Timothy Hay Cubes are made up of all natural sun-dried Timothy. Both of our cubes are free of any harmful products like corn, soy, or canola.
We always recommend having lose hay constantly available but giving them a hay cube they can gnaw on throughout the day is a great way for them stimulate their minds and still get hay into their system!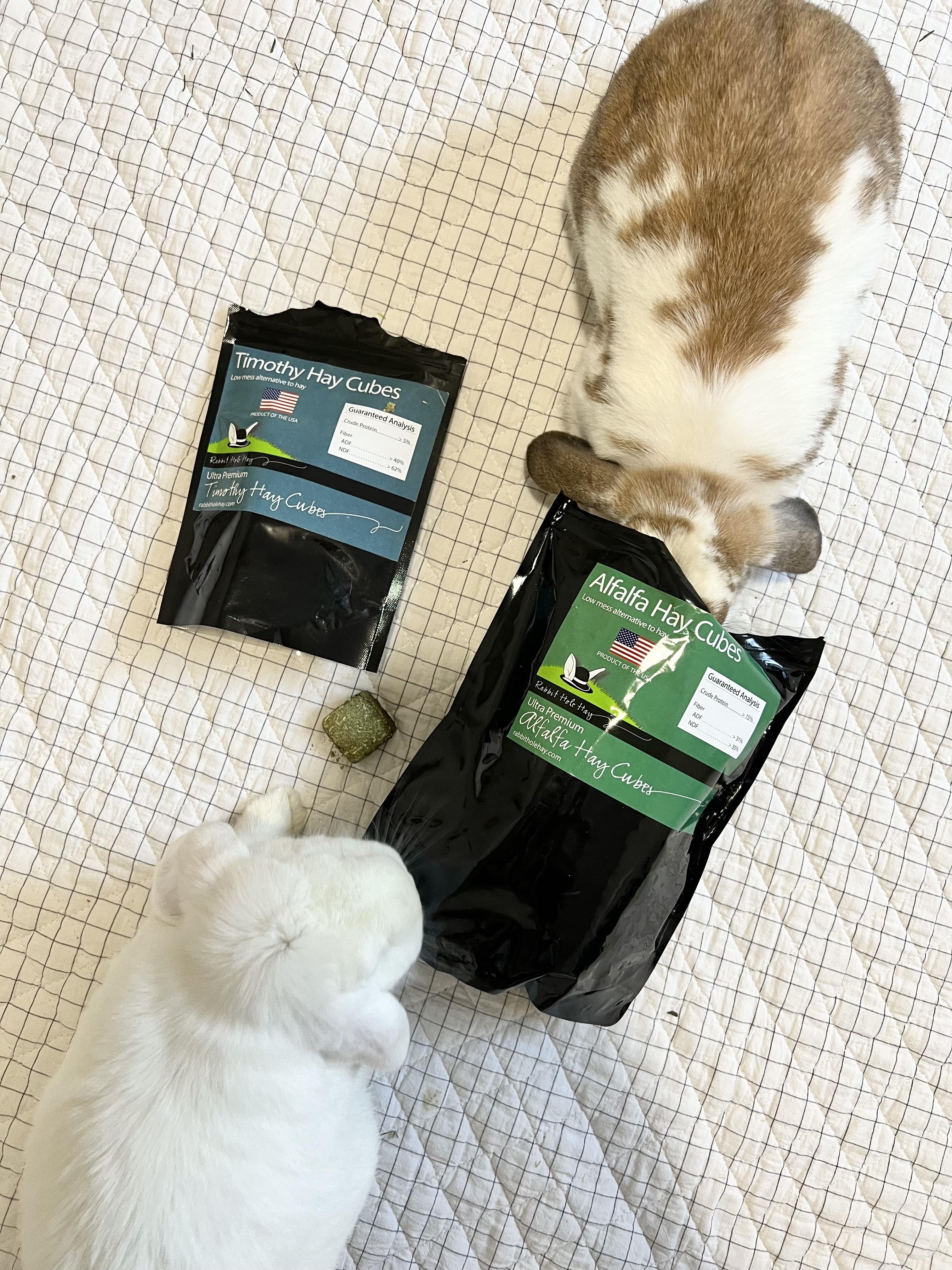 Where Binky & Twyla Find Their Hay
Adriel incorporates hay throughout their environment, always trying to make it as easy and accessible to Binky and Twyla as possible so they can munch away whenever they feel like it. 
She puts her mixture of Soft Orchard Grass, Coarse Timothy Hay, and Medium Timothy Hay in their hay rack/tower along with putting it in a box. 
You'll also find their favorite hay inside their litter box! Binky likes to forage around and find the good pieces when using the litter box and Twyla likes to eat straight from the hay bag when using the litter box. 
Each bunny has a different personality so Adriel does her best to cater to whatever they like to help them eat more hay. 
She'll also put their hay into toys to help enrich them. She uses a paper towel roll and cuts sections out of it before filling it with hay so they can munch away. You can even place it in a little box with a cutout rabbit in it before filling it with hay or in a small hay cage which will also help with their teeth. 
Watch the video or read on to see, in her own words, what Adriel thinks of our commitment to keeping small pets happy and healthy!

"We absolutely love Rabbit Hole Hay and their commitment to keeping small pets happy and healthy. This means a lot to me as a bunny owner, because a lot of products out there don't really focus on small pets. 
They focus more on cats and dogs. So having a brand that encompasses what I'm for really helps and gives me confidence in their business, in their brand. 

As a rabbit owner, I'm committed to giving my bunnies the best: the best food, the best environment, the best everything. And I believe Rabbit Hole Hay does that for us. 
Allowing them to have food that's not only nutritious, but super healthy, gives me peace of mind at night. I can sleep knowing that they're eating away and munching away on their hay. I've mentioned to many bun parents before that I have not noticed any GI stasis or GI issues after switching over to this brand. And I'm so grateful for Rabbit Hole Hay for that."
Be our next BUNbassador…

We'll be featuring a new BUNbassador like this every other month here on our blog. Want to be our next BUNbassador and share how you use Rabbit Hole Hay? Go here for all the details. 

In the meantime, tell us: What do you think of the ways Adriel feeds Binky and Twyla  their hay? Did you find some inspiration on ways you can feed hay to your small pet? Tell us know in the comments!