2023 Harvest Report: Coarse Timothy Hay
Written by The Rabbit Hole Hay Team
Welcome to our annual Harvest Report of Coarse Timothy Hay!
Within this Harvest Report you'll discover the answers to questions like:
Is Coarse Timothy Hay like First Cut Timothy?

What is Coarse Timothy Hay?
Additionally, our report will provide our warehouse's initial analysis of the year's new harvest. This analysis is based on factors such as the year's weather conditions and climate, giving us an early glimpse into the anticipated quality for the year.
But that's not all - keep scrolling to discover exciting news about our "Fresh From The Hopper" updates.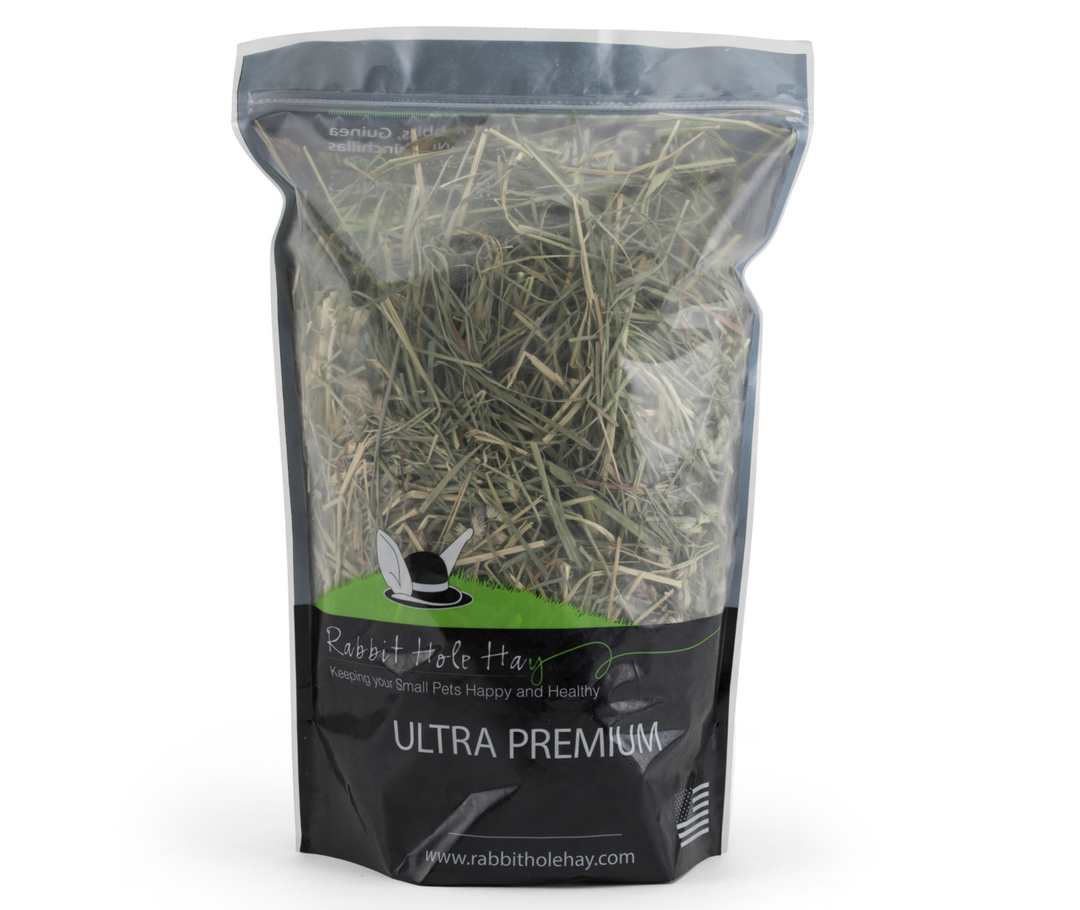 In 2019, we underwent a transformation in naming our Timothy Hay products. Shifting away from the traditional first cut, second cut, and third cut labels, we proudly introduced Coarse, Medium, and Soft Timothy.
Our aim was to ensure that every box of hay consistently meets your expectations. The previous naming system, although accurate, failed to capture the nuanced texture details that matter most. After a decade of using terms like soft, coarse, and leafy to convey hay textures, we realized the need for names that speak universally.
Coarse Timothy Hay is almost always harvested from the first cut. However, in the past we have inspected and rejected beautiful second cut hay because it was 'too coarse.' Which is extremely silly as we know you would've loved it! 
We now provide you with the highest quality hay we can find that meets the standards for what Coarse Timothy Hay should be, regardless if it's from the first or second cut. 
Coarse Timothy Hay should have these qualities:
Harvest: First or second cut of pure Timothy Hay
Color: Described as a mint or olive green. Earlier in the season the hay grows quickly, resulting in a lighter green color. 
Stems/Stalks: The stems of Coarse Hay are one of the most notable features of the hay. It should have fully developed stalks (stems), many of which will be hollow. The hollow-ness will cause the hay to feel stiff and rough, which is why we are calling it Coarse. 
Leaves: The leaves should be broad and less than half of the total amount of hay.
Seed Heads/Flowers: The seed heads, also called flowers, should be fully developed and will generally be between 2-3 inches long on average with small purple wisps.
Our goal is to offer the highest quality hay, however, all naturally grown and harvested hay holds minor imperfections such as dust, weeds, leaf crush, and brown leaf. The ideal version of Coarse Timothy Hay would have none of these.
Coarse Timothy Hay: 2023 Harvest Report
The 2023 Ultra Premium Coarse Timothy Hay we have in stock is currently a first cut. We had a rainy spring, which boosted the beginning of the growth season, and a warm and sunny summer which allowed us to get a great first cut. The harvest occurred on schedule in early June with a medium length stalk and thicker stems.
Here is the report on what we have in stock:
Overall Rating: 8.5/10
Harvest: First cut of pure Timothy Hay, it was harvested in June of 2023.
Location: Northern California
Color: Medium Green
Stems/Stalks: Averaging 8-12" in length and up to 1/8" in diameter
Leaves: There are a moderate amount of leaves with the leaf length up to 8"
Seed Heads/Flowers: Fully developed, averaging at 2.5" in length.
Leaf Crush: Very minimal
Weeds: None.
Brown Leaf: Very light.
Dust: None.
Initial Analysis Summary: The Coarse Timothy Hay this year is much closer to the Coarse Timothy Hay we had in 2021, which was a fan favorite.
Important to Know About Harvest Reports
Our Harvest Reports update yearly, and are a first glance and analysis of the newly harvested hay. This is what we are hoping (and anticipating) the rest of the year's hay will look like. Yet, nature's quirks make hay-growing and harvesting unique and can lead to a bit of unpredictability with every new batch of hay we receive. As new hay batches from this harvest comes in, typically every 4 to 6 weeks, we'll update you on any changes through our Fresh From The Hopper.
Order 2023 Coarse Timothy Hay Below!
Want to know about our other hays? Read our Harvest Reports!